ACIS INDONESIA merupakan Distributor untuk penjualan Software Point of Sales (POS) untuk berbagai jenis usaha seperti Retail, Minimarket, Restoran & Cafe, Apotik, Salon & Spa, Bengkel, Rental Dll. Kami Authorized Dealer untuk EASY Power Cash, Ravintola POS, RENE 2, dan Zahir POS.
EASY Power Cash "EASY to use, EASY to work"
EASY Power Cash adalah Point of Sales by EASY Accounting System yang biasa digunakan untuk kasir. Dimana database EASY Power Cash langsung terintegrasi dengan database centre, sehingga memudahkan user easy dalam proses sinkronisasi dari power cash ke aplikasi central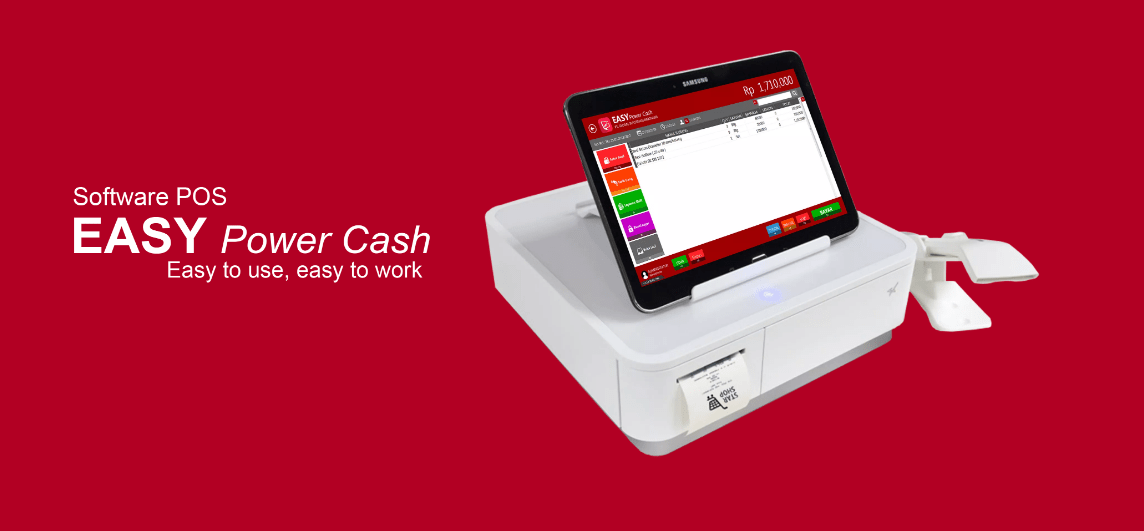 Easy power cash di develop dengan fleksibilitas tinggi sehingga mampu bekerja online maupun offline.
Support di berbagai jenis OS Windows terbaru termasuk windows 10.
Untuk memaksimalkan kamu dalam berjualan di toko retail kamu, easy power cash sudah support scanner barcode & printer bluetooth yang flexibel dibawa kemana-mana.
Easy Power Cash di desain dengan tampilan dan cara penggunaan yang mudah.
Anda dapat dengan mudah mengecek sisa stok anda dengan mudah
Mampu menampilkan laporan penjualan, laporan stok, laporan penjualan item terbaik dll.
Mampu sinkron secara otomatis hasil penjualan ke database akunting.
Cocok untuk toko dan retail anda.
Zahir Point of Sales
Kini saatnya Anda melengkapi tim penjualan Anda dengan alat penjualan yang interaktif dan impresif. Lakukan yang terbaik dan buat pelanggan Anda terkesan dengan Zahir POS.
Zahir POS Mobile adalah aplikasi pendukung tambahan yang memberi kebebasan untuk mencatat penjualan, mencari produk, mencatat informasi pelanggan, dan melakukan pencarian persediaan pada data Zahir POS langsung dari smartphone & tablet.
Catat transaksi penjualan dan pembayaran dengan mudah menggunakan aplikasi yang bekerja dengan cepat sesuai dengan kebutuhan Anda.
Software POS ini dirancang secara khusus untuk memberi pengalaman terbaik dalam mencatat penjualan dan pembayaran dengan menggunakan monitor layar sentuh.
Zahir POS dapat dihubungkan dengan Zahir Accounting seperti mencatat biaya operasional (gaji, listrik, telepon, dll), mengelola persediaan, dan melihat grafik analisis bisnis dan laporan keuangan secara lengkap.
Zahir POS bisa dihubungkan dengan perangkat pendukung kasir seperti barcode reader (pemindai kode bar), receipt printer (pencetak struk), customer display, touchscreen monitor, dan cash drawer.
Dapatkan kebebasan mencatat penjualan, mencatat informasi pelanggan, dan mencari persediaan barang langsung dari smartphone/ tablet dengan jaringan Internet/ LAN.
Fasiitas Lain yang ada : Multi Company, Multi User, Dukungan Bahasa Indonesia. Sangat mudah digunakan dan dipahami. Bahkan oleh orang awam sekalipun.
Belum merasakan kemudahan Online dalam mengelola Transaksi Kasir? Zahir POS 6 lebih mudah dengan fitur Import dan Eksport data melalui internet.
Kelola Pajak dan Diskon tanpa ribet! Zahir POS 6 Memudahkan Anda dalam mengelola Diskon dan Pajak per Item.
Zahir POS 6 memiliki fitur Katalog Produk yang akan memudahkan Anda dalam menganalisa barang yang paling laku.
Laporan dapat didesain dan dikembangkan sendiri. Dilengkapi dengan fitur pencarian teks pada laporan.
Zahir POS 6 menyediakan fitur pembayaran non tunai. Anda bisa menerima pembayaran dengan Kartu Kredit dan Kartu Debit dengan mudah.
Untuk RENE 2 dan Ravintola POS akan kami jelaskan di artikel selanjutnya. Kami adalah konsultan penjualan resmi untuk ACCURATE, EASY Accounting Software, Zahir, dst untuk seluruh Indonesia mulai dari Aceh, Padang, Jambi, Bengkulu, Medan, Palembang, Bangka Belitung, Serang, Jakarta, Bandung, Semarang, Surabaya, Bali, Pontianak, Balikpapan, Manado, Makasar sampai Jayapura. Dapatkan info lebih lanjut dari kami dengan menghubungi email marketing@acisindonesia.com atau telp 021-29018652 dengan Tim Solution Expert kami yang siap membantu Anda.