Sekilas Accurate
Accurate adalah salah satu software akuntansi lokal di Indonesia yang fungsi utamanya adalah mencatat pembukuan suatu perusaahaan untuk menghasilkan Laporan keuangan yang akan membantu pihak manajeman dalam mengambil keputusan dalam jangka pendek maupun jangka panjang. Pada accurate terdapat fitur ID Branch. ID branch adalah Identitas dari masing masing Database di accurate. jadi setiap database accurate memiliki kodenya masing masing. Fungsi ID Branch di accurate adalah sebagai identitas saat melakukan Expor Impor Transaksi dari Acurate to Accurate .
Menerapkan Fungsi ID Branch di Accurate
Berikut ini adalah Langkah langkah membuka Fungsi ID Branch di accurate sbb: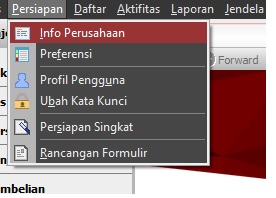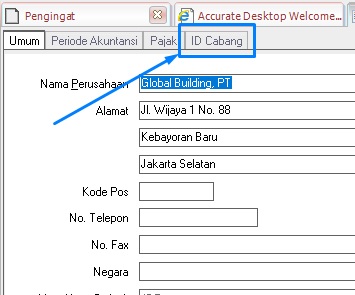 Maka accurate akan menampilkan ID Branch

Pengguanaan Fungsi ID Branch di accurate
Biasanya terdapat beberapa cabang atau database yang saling berkaitan lalu bagaimana Fungsi ID Branch di Accurate ?. Sedangkan data pusat menerima catatan transaksi dari masing masing cabang untuk di satukan. ID Branch akan berperan sebagai identitas dari masing masing cabang yang nantinya akan di daftarkan di Database Pusat. Jika sudah memenuhi syaratnya akan bisa di jalankan untuk melakukan Expor Impor Transaksi dari Accurate to Accurate. Apakah bisa bersumber dari Excel? Acis Indonesia memiliki Software pendukung yaitu ACA (Accurate Converter ACIS) yang mana berfungsi untuk melakukan convert ke dalam bahasa Accurate yang mana akan lebih mudah bagi masing masing sumber untuk di buat. Untuk memaksimalkan penggunaan ID Branch pada accurate sangat di sarankan melakukan implementasi accurate. Klik disini untuk informasi Implementasi Accurate di ACIS, dan klik disini untuk Infomasi seputar ACA klik disini untuk informasi produk Accurate.
Informasi Fungsi ID Branch di accurate
Demikian penjelasan mengenai Fungsi ID Branch di accurate . Kami ACIS Indonesia adalah konsultan penjualan resmi software akuntansi ACCURATE untuk seluruh Indonesia mulai dari Aceh, Padang, Jambi, Bengkulu, Medan, Palembang, Bangka Belitung, Serang, Jakarta, Bandung, Semarang, Surabaya, Bali, Pontianak, Balikpapan, Manado, Makasar sampai Jayapura.selain aplikasi akuntansi Acis indonesia pun memiliki produk excel accurate yang berkaitan dengan Accurate seperti Converter Excel to XML. Dapatkan info lebih lanjut dari kami dengan menghubungi email info@acisindonesia.com atau telp 021-29018652 dengan Tim Solution Expert kami yang siap membantu Anda, sini .