Proforma Invoice Dalam Accurate
Hallo sobat ACIS kembali lagi dengan kami ACIS INDONESIA, hari ini saya akan membahas mengenai Proforma Invoice Dalam Accurate, Apasih yang di maksud dengan Proforma Invoice?
Maksud proforma invoice dalam dunia perdagangan sering dipakai dalam kegiatan ekspor impor barang. Karena sifatnya yang belum pasti alias proforma maka dalam kegiatan ekspor impor biasanya memakai LC agar ada kepastian regulasi dalam bertransaksi.
Proforma Invoice terdiri dari item barang yang dipesan oleh pembeli, dimana di dalamnya tertera harga jual, jumlah barang yang dipesan, dan total harga barang. Apabila pembeli sudah memberi kejelasan barang yang akan dipesan dan sudah membayar dimuka, proforma invoice atas pemesanan tersebut sudah bisa berubah menjadi invoice.
Langkah-Langkah Proforma Invoice Dalam Accurate
Dalam kaitan dengan Accurate, maka proforma invoice ini bisa kita persamakan secara konsepnya dengan Sales Order atau Pesanan Penjualan yang ada di menu Sales. Sehingga jika ada pengguna Accurate yang ingin membuat proforma invoice, maka bisa menggunakan fasilitas Sales Order. Langkah-langkahnya sbb :
1. Dari menu Activities | Sales | Sales Order.
2. Tentukan nama pembeli beserta detail barang dan harga yang dipesan.
3. Save and Close.
Agar tampilan proforma invoice bisa lebih meyakinkan (karena template default bernama Sales Order / Pesanan Penjualan), maka Anda perlu mengubah sedikit Deskripsi atau Judul form Sales Order tsb. Caranya :
1. Dari menu Setup / Persiapan | Form Template / Rancangan Formulir
2. Doubleclick pada nama rancangan Sales Order yang akan diganti Judul / Title nya.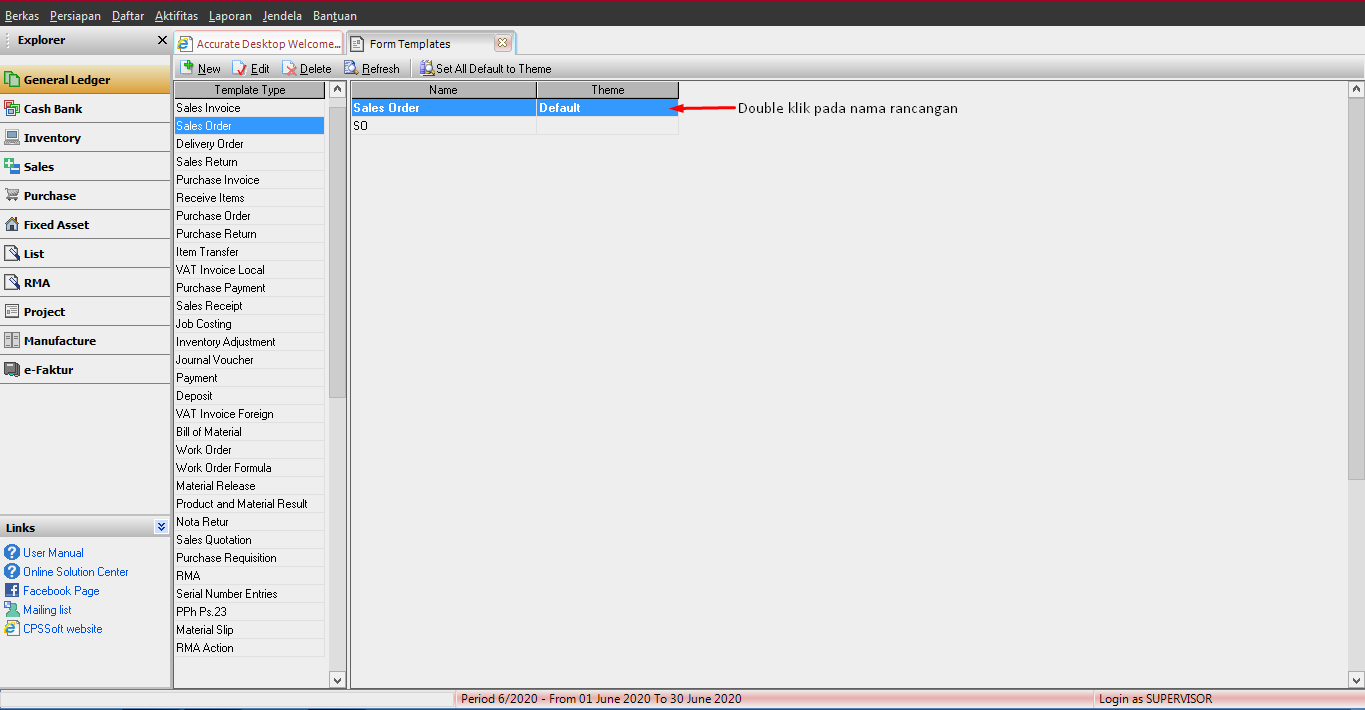 3. Ubah pada bagian Title / Judul menjadi Proforma Invoice.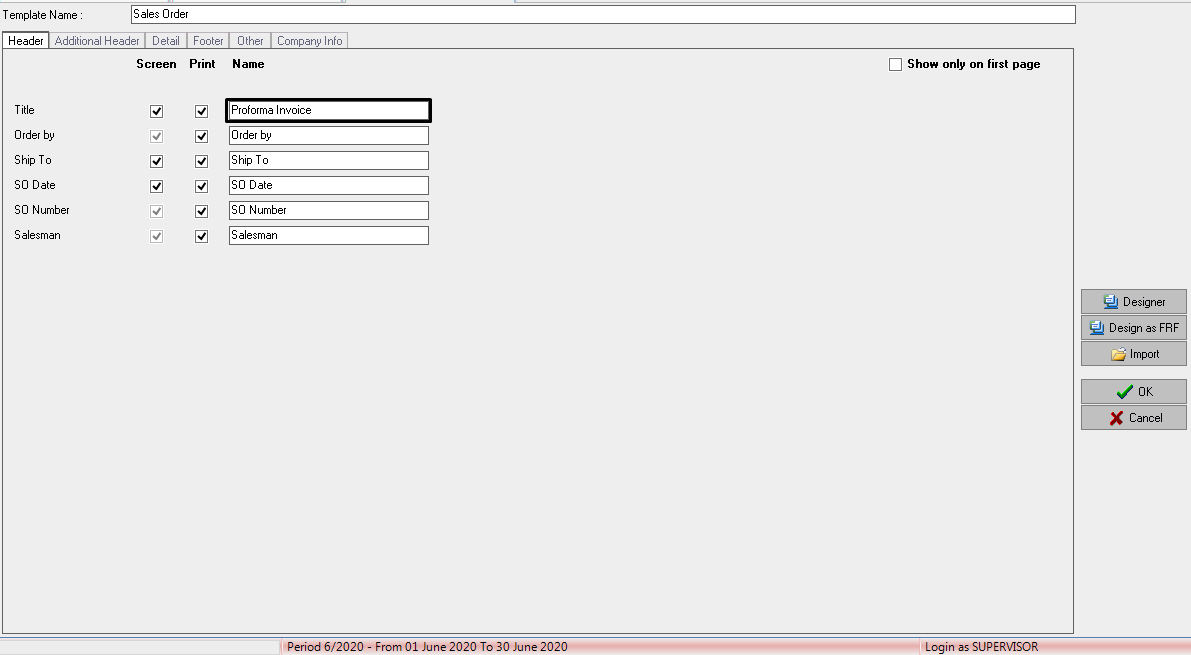 4. Untuk memastikan hasil tampilan sudah pas, klik Designer.
5. Atur posisi tulisan Proforma Invoice sesuai kebutuhan Anda, lalu klik Save.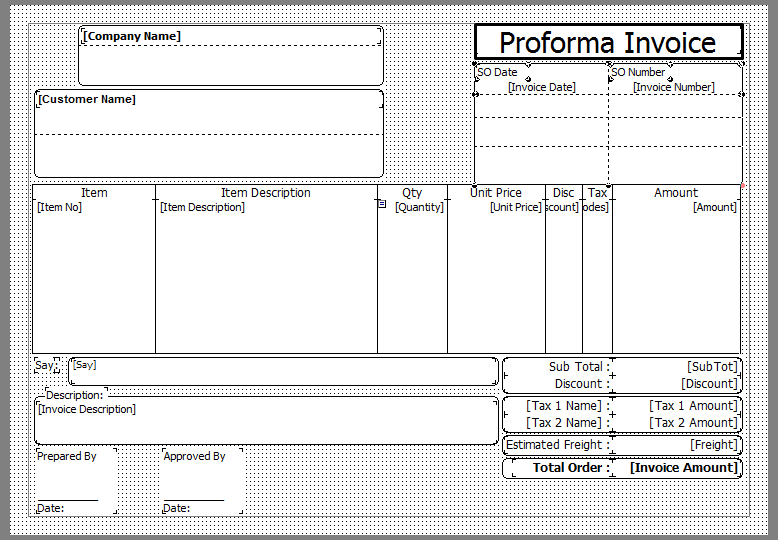 6. Template telah siap untuk digunakan.
Ikuti Langkah-langkah di atas untuk Membuat Proforma Invoice Dalam Accurate agar mendapatkan manfaat dari fitur tersebut, semoga tips and trik dapat membantu para pengguna Accurate dan untuk yang belum menggunakannya semoga ini dapat menjadi referensi untuk membantu mempermudah pembukuan anda. SELAMAT MENCOBA!
Untuk pertanyaan atau informasi lebih lanjut dapat menghubungi kami via Email info@acisindonesia.com atau Telepon ke (021) 29018652 
Informasi Order Proforma Invoice Dalam Accurate
Kami adalah ACIS Indonesia, konsultan penjualan resmi untuk  Accurate Software untuk seluruh Indonesia mulai dari Aceh, Padang, Jambi, Bengkulu, Medan, Palembang, Bangka Belitung, Serang, Jakarta, Bandung, Semarang, Surabaya, Bali, Pontianak, Balikpapn, Manado, Makasar sd. Jayapura. Kami siap melayani terkait Software Akuntansi Untuk Perusahaan anda. klik disini