Hai sobat ACIS, kembali lagi dengan kami ACIS Indonesia Konsultan Software Akuntansi. Di pertemuan kali ini kami akan membahas ' Software Accounting Travel Agent & Tour '. Sebelum kita membahas Software ada baik nya kita tahu apa itu Travel Agent. Mendengar kata Travel Agent apa yang teringat di pikiran anda? Liburan? Perjalanan? Atau semacam nya? Ya, Agen perjalanan (travel agen) atau biasa juga disebut dengan agen tour adalah seseorang atau sekelompok orang yang memiliki peran dalam mengatur merencanakan perjalanan atau liburan. Agen perjalanan ini biasanya akan bekerja untuk menganggarkan, menetapkan, menjadwalkan dan mengatur orang yang berencana melakukan perjalanan atau liburan. Mereka juga akan menawarkan saran tentang ke mana harus pergi, tempat tujuan wisata, acara dan kebutuhan suatu perjalanan.
Menurut data ASITA (Association of The Indonesian Tour & Travels Agencies) jumlah perusahaan biro perjalanan dan wisata (tour & travel) di Indonesia sudah mencapai sekitar 4.000 perusahaan, tetapi jumlah tersebut cenderung naik turun. Fluktuasi jumlah perusahaan itu karena ada perusahaan yang mampu bertahan dan sebaliknya justru tenggelam. Dari jumlah itu, anggota ASITA Jakarta baru mencapai 1.400 perusahaan. Setidaknya, terdapat sekitar 1.400 perusahaan perusahaan biro perjalanan dan wisata (tour & travel) di Jakarta yang belum menjadi anggota lantaran terkendala beberapa hal salah satunya soal pengetahuan manfaat asosiasi.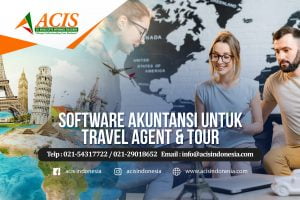 Lalu lintas transaksi yang terjadi dalam Travel Agent dalam pelayanan perjalanan wisata begitu besarnya dan padatnya, hal ini sangat sangat memerlukan penanganan dan kontrol yang sangat signifikan dimana selain pelayanan juga lalu lintas dana atau uang yang terjadi. Dalam bisnis Travel Agent sering terjadinya kehilangan atau kecurangan dalam hal pengelolaan perputaran uang yang begitu besar dan cepat dan hal ini baru bisa diketahui pada saat dilakukannya laporan akhir tahun terhadap rekap-rekap transaksi yang terjadi selama tahun fiskal tersebut.
ACIS Indonesia memilliki solusi untuk problem transaksi anda, mulai anggaran, penjualan sampai dengan keuangan atau akuntansi untuk Travel agen dengan biaya yang sangat terjangkau. ACIS ini sangat membantu para pengusaha Travel agen terhindar dari mahalnya pengadaan suatu system, terhindar dari penumpukan transaksi, pelambatan dalam menampilkan laporan keuangan dan sebagai nya, Di ACIS sudah di lengkapi berbagai fitur yang dapat menunjang kebutuhan usaha mulai dari fitur modul khusus seperti pembelian, penjualan, dll tidak lupa bentuk penawaran Travel mulai dari diskon, termin jatuh tempo, invoice, dll.
Untuk informasi lebih lanjut tentang produk kami silahkan klik https://www.acisindonesia.com/produk/accurate-5/
Kami ACIS Indonesia adalah konsultan penjualan resmi software akuntansi ACCURATE untuk seluruh Indonesia mulai dari Aceh, Padang, Jambi, Bengkulu, Medan, Palembang, Bangka Belitung, Serang, Jakarta, Bandung, Semarang, Surabaya, Bali, Pontianak, Balikpapan, Manado, Makasar sampai Jayapura. Dapatkan info lebih lanjut dari kami dengan menghubungi email info@acisindonesia.com atau telp 021-29018652 dengan Tim Solution Expert kami yang siap membantu Anda.